Company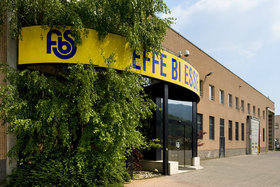 Thirty-years' specialisation in zamak die-casting.
Founded in Sarezzo (Brescia) in 1982, Effebiesse rapidly became a leading company in zamak die-casting and in the manufacture of single-mixer handles, zamak handles and accessories for taps and sanitary fittings.
Later, Effebiesse began to put its many years of experience at the service of other sectors by designing ad manufacturing bathroom accessories, components for household appliances, die-cast zamak products for lighting engineering, small items and sundry objects for furnishings, parts for household articles, plates and handles for doors and windows.
Managed by Fortunato Fiorentino and Domenico Borghesi, its founders, Effebiesse is equipped with highly advanced technological installations and it can rely upon a team of highly specialised technicians to guarantee excellent production in terms of quality, flexibility and capability.
For more than 300 prestigious companies all over the world, Effebiesse is a trusted partner that guarantees quality, saving and reliability at the same time.
As a matter of fact, all production cycle phases are accomplished and controlled within the factory: design, tool manufacture, hot-pressing, machining, metal polishing, galvanic treatments, such as chromium-, nickel- and copper-plating, up to final inspection and shipment.
In partnership with its customers, Effebiesse can accomplish highly-customised solutions for any level of complexity. Co-design is assisted by sophisticated CAD-CAM information systems. Technical advisors, always of great competence and creativity, help companies to conceive new items and support them in their constant search for the best solution.
The corporate mission can be summed up as follows:
<<Since 1982, we have been manufacturing die-cast zamak accessories and components for taps and sanitary fittings, lighting engineering and many other fields. Our purpose is to fulfil the customer's needs in terms of quality, service and price. We can guarantee customised solutions as well as flexible and reliable deliveries>>.