Zamak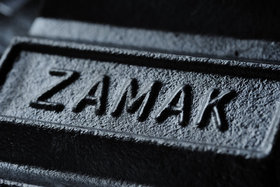 Zamak: a durable, economical and versatile zinc alloy.
Zamak is a zinc alloy, combined with small percentages of aluminium, magnesium and copper.
Die-casting is the most widespread zinc-alloy (zamak) processing method in the production of accessories and components.
Effebiesse uses hot-chamber die-casting machines (so called because the pressure chamber is constantly immersed in cast metal, thus assuming its temperature).
Zamak hot-forming is used to manufacture extremely accurate parts with complex shapes, extremely thin thicknesses and external threads at a low cost, thus assuring constant quality in small and large series.
Moreover, die-cast zamak products are perfectly suitable for surface finishing (machining, grinding, metal polishing, galvanic treatments, etc.).
Durability, hardness and ductility make zamak an extremely versatile material for the production of a wide range of products: bathroom accessories, single-mixer handles and handles for taps and sanitary fittings, components for household appliances and lighting, small items, hinges, plates and handles for doors and windows, parts for furnishings and various other zamak objects.
At Effebiesse, zamak is machined on the premises, throughout all its phases:
tool design and tool manufacture, hot-press smelting, metal polishing, galvanic finishes such as chromium-, nickel- and copper-plating, up to final inspection and shipment.